Dinner Meeting with Speaker: Emotional Intelligence for Finance Professionals
Date:
Wednesday, May 10, 2023
Location:
Atlantic Grill, 5 Pioneer Road, Rye, NH
Speaker:
Kira Copperman, KBC Consulting, New York, NY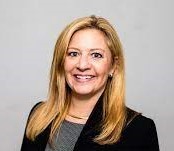 Advance Registration for the Dinner is Now Closed. If you are interested in attending, please reach out via phone on Monday, May 8 and we can deteremine whether we can add more people or not.
The Council's fifth and final event of the membership year will be held on Wednesday, May 10, 2023 at the Atlantic Grill located at 5 Pioneer Way in Rye, NH. The evening begins at 4:30 p.m. with a cocktail reception held outdoors on their covered patio followed by dinner at 5:30p.m. The Council will also host its annual meeting and election during this event. (A copy of the 2023 Report of the Nominating Committee will be sent to all members in late April.)
We look forward to welcoming Kira Copperman of KBC Consulting who will present Emotional Intelligence for Finance Professionals.
Financial advisors spend at least 25 percent (or more) of their time dealing with clients' emotions during client meetings ("The Changing Role of the Financial Planner Part 1: From Financial Analytics to Coaching and Life Planning." Journal of Financial Planning, 2009). In today's fast-paced and ever-changing work environment, superior intellectual, technical and analytical ability is not enough. In fact, EI has been shown to be twice as important as other drivers of job performance such as IQ and technical skills. The good news is that EI can be learned and improved over time. In one recent study on EI in accounting, it was discovered that partners with strong social skills added 110% more profit than those with only self-management competencies and another recent IMA study says interpersonal skills are most important for success as professional accountants. In this presentation, participants will strengthen skills that are part of being emotionally intelligent. Activities and exercises allow for practical application of these skills. Handouts will include suggestions and tips for each person to improve their own EI.
Click here to learn more about Kira!
Thank you to our dinner co-sponsors:
Questions? Please call me at 603-228-1231 or click here to email me.
We look forward to welcoming you on May 10.
Thank you.
Matt Gatzke
Council Administrator